In 2013, DeepWater Buoyancy acquired the rights and designs for legacy Flotation Technologies products.  Since then, we have been producing, improving and growing the Flotec product line, which has been the industry standard for decades.  We also stock parts for these legacy products and provide design and application assistance.  Through the power of continual improvement, DeepWater Buoyancy is building the best, better.
Spherical ADCP Buoys
Manufactured from high-performance DeepTec™ syntactic foam and fitted with 316L stainless steel and titanium hardware, spherical ADCP Buoys are designed to outperform and outlast conventional mooring flotation.
Available with depth ratings from 200m to 6000m, they require minimal maintenance and are extremely durable under the most rigorous deepwater conditions.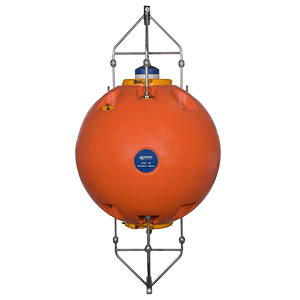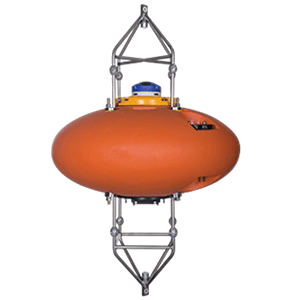 Elliptical ADCP Buoys
These buoys are have the same rugged design as the spherical ADCP buoys, but have an elliptical shape for higher current applications. Available with depth ratings from 200m to 6000m.
StableMoor™ ADCP Buoys
For a more extreme current application, turn to the StableMoor™ line of buoys. These unique ADCP buoys are customized for your particular application. Accounting for depth, instrument types and current, this design will give you stable data in unstable waters.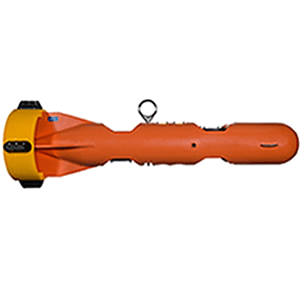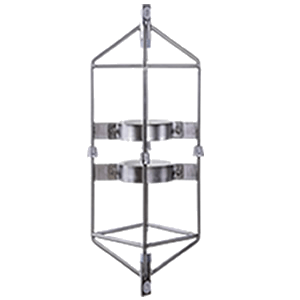 ADCP Inline Frames
Our in-house engineering and metal fabrication capabilities can identify a standard frame for your application or customize one to suit your needs. Working in stainless steel, aluminum or titanium, we can get your frames in line.
Instrument Bottom Mounts
Whether your bottom mount requirement is for a mid-frequency or high-frequency ADCP, we can accommodate you. These diver-serviceable units can be produced to accept your ADCP, battery, CTD, acoustic modem or other instrument.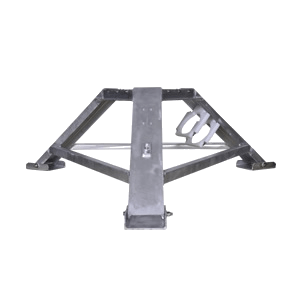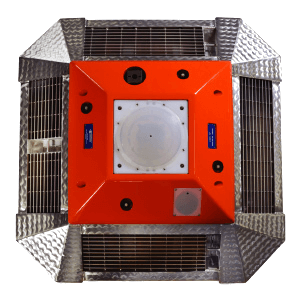 Trawl-resistant Bottom Mounts
These TRBMs may be deployed by free-fall, or by a diver or ROV. They have a double axis gimbal inside a buoyant recovery pod, and are designed to permit retrieval of all mounted instruments. An optional Spectra line pack can be provided  for recovery of the base for turnaround deployments. Our TRBMs are available in depths of over 500 meters. We also offer disposable concrete bases.
Hydro-Float™ Mooring Buoys
DeepWater Buoyancy's subsurface mooring buoys are more versatile and reliable than conventional hollow glass or metal floats. The buoys may be cast with through holes and instrumentation pockets on any axis without compromising their strength because of their solid construction. Clamps and mounting hardware can be added for any user-supplied instrumentation.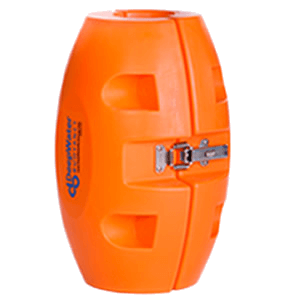 Cable Floats
Hydrodynamic cable floats provide low-drag distributed buoyancy for a variety of offshore, commercial, military and oceanographic applications. Available with two attachment methods and sized to fit any cable, these floats are some of the most versatile buoyancy products available. They are available with depth ratings  to 6000m.  Ask about our Quick-Loc™ hinge and latch system for frequent deployment and recovery.
Marker Floats
Rugged and highly visible, our marker floats are used in ROV and Survey operations around the world. A tough rotomolded exterior shell resists damage to the DeepTec™ syntactic foam core even during the roughest handling.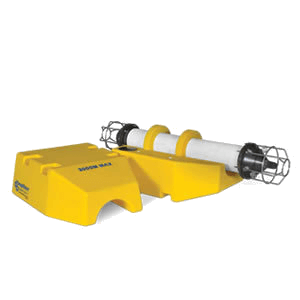 Instrument Collars
Designed for long term submergence, our instrument collars provide years of reliable service and stand up to rough handling during operations. Each yields the buoyant force needed for a rapid ascent and positive recovery without impairing the performance of the instrument. From shallow water surveys to ultra deepwater positioning, you can count on these collars to help ensure overall success in the field.
HardBall Floats
HardBall Floats™ provide distributed buoyancy for cable laying, offshore, and oceanographic applications. They are available in a range of sizes and depth ratings. Unlike glass balls or hollow plastic floats, HardBall Floats™ cannot leak or implode. Only the highest strength, epoxy-based DeepTec™ syntactic foams are used to form the core — no macrospheres or other high risk materials.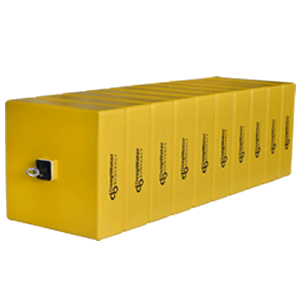 Modular Buoy Systems
Modular buoys are the most versatile approach for offshore applications. They are offered in a variety of standard sizes with buoyancy as great as 10 tons and depth ratings to 3000 meters and beyond. For installation of pipeline sleds, jumpers or suspended moorings, this multi-purpose product offers a straightforward way to meet buoyancy requirements.
Polyurethane Elastomer Products
To complement our line of DeepTec™ syntactic foams, we also produce a wide range of polyurethane products for deep submergence.  Custom clamping solutions, protective coatings and flexible cable products can be cast in any size or durometer.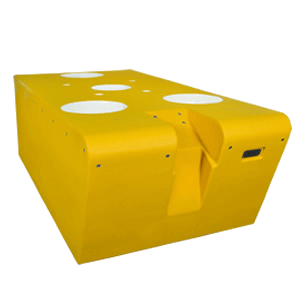 ROV Buoyancy
We provide the highest quality flotation for offshore, research, commercial and military vehicles. Made with DeepTec™ syntactic foam, these floats are the most reliable and cost-effective choice for ROV, AUV and tow body flotation. Whether you are outfitting a new vehicle or tooling package, or require customized add-on buoyancy, you will get a superior product and quick turnaround.
ROVits™
Designed similarly to "tether balls," ROVits™ are our answer to the request for multi-purpose small floats. ROVits™ provide buoyancy to make manipulator and ROV tasks easier, especially where hardware like lift eyes, pins, and handles are involved. ROVits™' rugged design and 3000m depth rating make them the most versatile tool in your support van.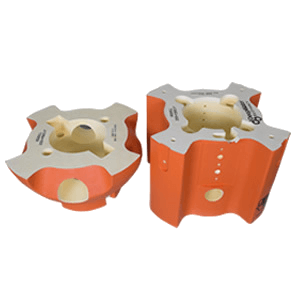 Custom Syntactic Foam Solutions
Don't see what you need in this list? Have a unique requirement to buoy an instrument or lift a vehicle? Require engineering and design assistance? We are glad to assist you in assessing your application, and conceptualizing and designing a solution. In addition to syntactic foam, we also work in metals, plastics, and urethanes. And we have a wide variety of in-house capabilities to quickly turn your project around. Over half of our production is custom fabrication.