Shallow Water Mapping & Imaging System
The PingDSP 3DSS is a game-changing Shallow water Mapping & Imaging system
Ultra-wide swath width that can exceed 14 times water depth
Ideal for coastal hydrography, Port & harbour survey, river & lake survey, Dredging survey, Mapping of underwater structures & debris
Exceeds IHO special order requirement
Simultaneous 3D Side-scan, 2D Side-scan and Bathymetry data outputs
In production since 2015
Canadian manufacturer
Widely accepted by the Hydrographic community. Driver is available in popular survey s/w like Hypack, QPS, etc. Data is compatible with Caris, Sonarwiz
Employs patented CAATI technology – overcomes limitations inherent to traditional interferometric & beamformer type systems
True 3D Sidescan technology generates raw data points that can be visualized as a point cloud. Target dimensions (LxBxH) can be measured in 3D, as opposed to only measuring "shadow" length in traditional Sidescan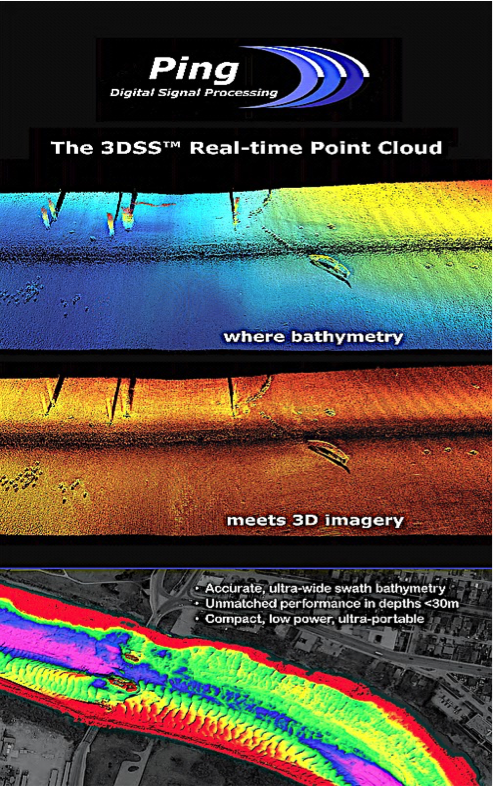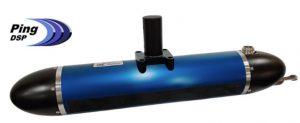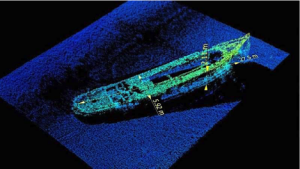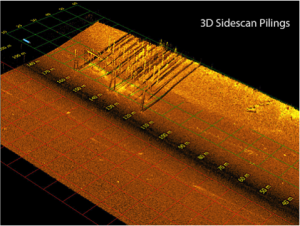 True 3-D Sidescan
Utilizing the CAATI methodology, each backscatter arrival is given a range and angle value relative to the sonar head. These raw data points can then be visualized in a point cloud display, resulting in a geometrically correct 3D representation of a standard 2D side scan image. This point cloud can be rotated and manipulated to provide 3D views of object geometry in side scan imaging detail. This greatly enhances the capability for detection and identification of targets, and allows for easy measurement of target dimensions. Tools for displaying the 3D point cloud and measuring target dimensions are included in PingDSP's software suite.
To the left is a target of interest in both traditional and 3D side scan views. With the ability to colorize and rotate the 3D perspective, the true structure of the target is easily revealed.
3DSS technology supplements multibeam echo sounders (MBES) in shallow water by providing wider coverage together with 3D imagery. 3DSS technology also supercedes interferometric phase based sonars by separating seabed returns from sea surface, water column and multipath interference to provide clean and accurate bathymetry together with stunning 3D and 2D imagery.
For shallow water hydrography, the 3DSS Sonar is simply the best and most versatile mapping and imaging sonar available.
COMPACT, ULTRA- PORTABLE, VERSATILE
A versatile Sonar Interface Unit provides ultra-portable, easy operation with just a laptop and a battery together with flexible interfacing to 3rd party external equipment on a small boat, USV, or dedicated survey launch.
BROAD APPLICATION
 Coastal Hydrographic survey

 River and Lake surveys

Dredge surveys

Tailing Pond surveys

Subsea structure surveying

Search and localization

Benthic habitat mapping

Underwater archaeology