Coda Octopus DA4G
The DA4G™ series of acquisition systems from the CodaOctopus® Geo family provides high quality, robust and reliable data acquisition from the latest digital and analog sidescan sonar and sub-bottom profiler sensors.
DA4G is the fourth generation of our successful DASeries® and is built on twenty years of knowledge, experience, and innovation in supplying unparalleled products and service to the worldwide geophysical survey sector. These purpose-built, turn-key, systems incorporate the very latest hardware specifications and are designed and delivered to meet the demanding nature of offshore survey work.
Powered by our GeoSurvey™ software, the DA4G Series provides a stable, integrated platform for sidescan and sub-bottom acquisition, processing, interpretation, and reporting, from survey to deliverable.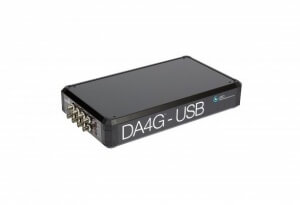 DA4G-USB
The DA4G-USB is the latest in the DA4G series of acquisitions systems from the CodaOctopus®:GEO family. This new streamlined system takes the industry leading digital acquisition and conversion components from the DA4G and presents them in a robust and smaller package for analog and digital acquisition.
This small form-factor platform with generic USB-to-PC interface facilitates the use of existing PC hardware for geophysical data acquisition. The DA4G-USB runs our GeoSurvey™ software for either single sensor acquisition (sidescan or sub-bottom profiler) or dual sensor acquisition (DA4G™-USB 1000 or 2000). The GeoSurvey software dongle can be embedded in the software or issued separately.
Customers will only need to add a simple PC or laptop to the DA4G-USB to complete their acquisition package. The GeoSurvey software dongle can either be embedded in the new DA4G-USB or issued separately depending on the customer's preference.
Survey Engine
Survey Engine Version 6 is the complete package that hosts the following modules within it that are customizable to each user. Each of these software packages integrate fully so that both sidescan and seismic data can be used in the same project yielding significant interpretation and productivity benefits:
Sidescan+: is the side scan software for processing and interpreting sidescan sonar data. Built on twenty years of experience that have made our geophysical software the worldwide market leader, Sidescan+ brings survey interpretation up-to-date with the latest database and GIS Technologies.
Seismic+: is a next-generation 2D seismic data processing, interpretation and reporting application for the marine survey industry. Seismic+ SBP software offers exceptional time-saving advantages when reviewing data and performing interpretation. Designed with thousands of line kilometers of survey data in mind, we believe that Survey Engine® Seismic+ is the most productive and intuitive tool available for seismic data processing, interpretation, and reporting.
Pipeline+: is the most efficient package for interpreting sidescan sonar records from a pipeline inspection survey. Including support for free span measurements, a definition of a corridor of interest around the pipeline, and extremely flexible attributing, Pipeline+ takes the user from raw data files to fully interpreted GIS or CAD deliverables in a seamless, integrated environment.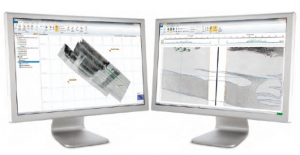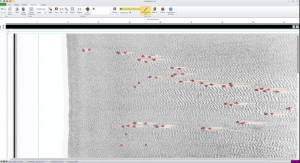 Survey Engine® Automatic Object Detection Package ("SEADP")
SEADP a new product for the subsea geophysical market which is based on algorithms designed and developed around artificial intelligence (AI) techniques. It is supplied with Survey Engine Sidescan+ and Survey Engine Mosaic+, two fully integrated software packages which produce high quality mosaics, speeding up sidescan data processing, interpretation and processing for large sets of data resolution.
Based around a flexbible database, Survey Engine gives fast access to all survey information, even from the largest datasets. Integrating this software with SEADP takes the user from raw data files to fully interpreted and defined GIS or CAD deliverables in a seamless, integrated environment.
As with all of our products, SEADP, Sidescan+ and Mosaic+ are backed up by 24/7 Technical Support and software maintenance program ensuring assistance is at hand whenever and wherever you require it.
Survey Engine® Seabed Classification
The seabed classification module uses AI (artificial intelligence) based methods to detect and classify seabeds in both type and geographical extent  from sidescan sonar data. The extent boundaries are instantly visible to the user for validation and QC and can then be exported for use in chart and map generation, direct import to the users chosen GIS platform, or for further processing. Within Survey Engine, the seabed type boundaries are stored using our powerful GeoKit feature set allowing them to be manually edited, reported or supplemented if required. The boundary generation process automatically creates nodes in a way that avoids any gaps between adjacent seabed types which is vital for contiguous segmentation and reporting. Our software also displays closed boundary areas as coloured polygons helping to identify and distinguish these seabed types, particularly useful to visualize those areas completely surrounded by other seabed types.
With this new fully automated Seabed Classification software, our users can now save valuable interpretation and reporting time when generating charts or maps in support of their geophysical survey projects. Ideal geophysical survey applications include site and geohazard investigation in support of pipelay, jacket and riser installation or subsea cable laying operations. For example, ripples in the seabed that alert operators to strong and potentially dangerous currents, can now be more quickly and more repeatably identified for better decision making. Environmental applications will greatly benefit from the automated classification over large area surveys of differing and varied seabed types.
Currently, Seabed Classification Beta is programmed to recognize six (6) different types of seabed compositions. This Seabed Classification package is fully extensible and specific types can be added on request.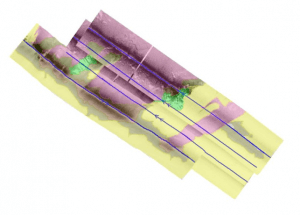 File Utilities
File Utilities is a simple yet powerful software package for viewing and manipulating survey data from both the GeoSurvey™ suite of software and standard data formats from other geophysical packages.
Combining four tools in one package, File Utilities offers a low-level file inspection tool, enabling fast access to all recorded parameters; a reporting tool, allowing users to produce detailed reports of fields of interest at specified intervals; a suite of format converters allowing a variety of standard and proprietary formats to be converted into Coda® format, and Coda® format files to be exported as a range of SEGY variants; and a file editor to correct inaccuracies or inconsistencies in previously recorded data.
Ideally suitable for a range of geophysical data handling tasks, File Utilities is a must have software package for marine survey companies.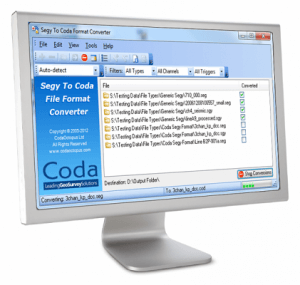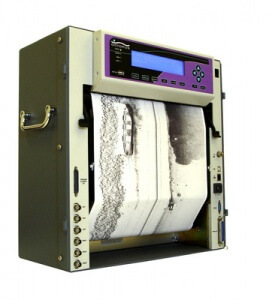 Thermal recorder for continuous greyscale printing
The Octopus 120+ benefits from a complete new electronic design and features a new menu driven interface. Producing high quality continuous images onto thermal paper or film, it is up to five times faster than the previous model, and is ideal for hard copy output of geophysical data.
With a wide range of interface options including Ethernet, USB and parallel (Centronics) and compatible with most PC based acquisition systems, the Octopus 120+ is easily interfaced with commonly used data sources. A unique three channel analog input capability has fully independent channel settings, enabling simultaneous display of geophysical data such as seismic and sidescan. Print resolution of 200 dpi at up to 256 grey levels, with a print width of 2368 pixels means that data can be printed at very high resolutions. With 20% greater print width than many other similar models, the Octopus 120+ is able to print three channels without compromising resolution.
Fully interchangeable with the original Octopus 120 printer, a selection of upgrade or trade-in options is available to current owners.