PingDSP 3DSS
The 3DSS-DX utilizes state-of-the-art acoustic transducer array technologies, SoftSonar™ electronics, and advanced signal processing techniques to produce superior swath bathymetry and 3D side-scan imagery. This patented technology is able to resolve multiple concurrent acoustic arrivals, separating backscatter from the seabed, sea-surface, water-column and multipath arrivals. The result is stunning 3D side-scan imagery spanning the entire water-column, and superior swath bathymetry from a compact, easy-to-use sonar.
True 3-D Sidescan
Utilizing the CAATI methedology, each backscatter arrival is given a range and angle value relative to the sonar head. These raw data points can then be visualized in a point cloud display, resulting in a geometrically correct 3D representation of a standard 2D side scan image. This point cloud can be rotated and manipulated to provide 3D views of object geometry in side scan imaging detail. This greatly enhances the capability for detection and identification of targets, and allows for easy measurement of target dimensions. Tools for displaying the 3D point cloud and measuring target dimensions are included in PingDSP's software suite.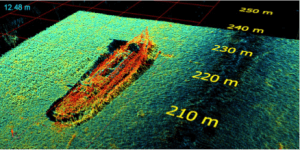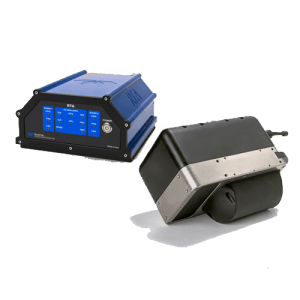 Teledyne Odom MB2
The MB2 Multibeam Echosounder is developed for fast mobilization on smaller vessels and is optimized for shallow water survey companies, Port and Harbour Authorities, dredging companies and other users looking for an easy to use, quick to deploy, high resolution system.
As an option MB2 can be supplied with an integrated IMU and GPS heading system as well as an integrated real-time SVP sensor to simplify installation and calibration, making the MB2 perfect for use on vessels of opportunity, small survey launches and ASVs.
MB2 features a dedicated cylindrical transmit array and broad range of sounding frequencies improving on the performance of the MB1 by offering a wider coverage and narrower acoustic beam.
Selectable swath width up to 140 degrees
Acoustic beam width 1.8° x 1.8°
User selectable frequency range from 200 to 460 kHz
Integrated IMU and GPS heading system (Optional)
Integrated real-time SVP sensor (Optional)