Teledyne Benthos MiniROVER
The MiniROVER Remotely Operated Vehicle is Teledyne Benthos' answer for a more portable and powerful ROV system. Over 500 of Benthos' ROV vehicles have been sold worldwide and this proud tradition continues with the newest ROV to bear the name. The new MiniROVER is an extremely robust, highly portable system that allows the user to extend the operational envelope of their ROV projects and explore areas never before possible. At an in-air weight of 52 pounds, the MiniROVER is one man deployable and has built in connectivity for many optional sensors, including scanning sonars. This versatility allows our MiniROVER to be used for a wide array of applications.
Features:
Auto heading and depth.
2 cameras in Lexan tube - a high resolution zoom color camera and a low-light black and white camera.
90 degrees up / -90 degrees down camera tilt range.
2 LED arrays - fully dimmable, externa to camera enclosure.
Heading and depth sensors.
Rugged frame constructed from ultra-high molecular weight polyethylene (UHMWPE).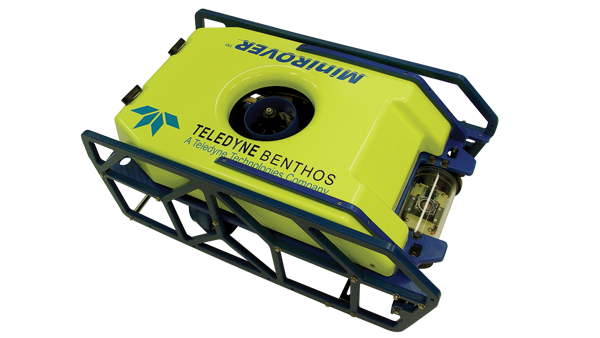 3 powerful, reliable, magnetically coupled DC brushless thrusters (lateral thruster is optional).
Lightweight and water resistant hand control box.
Built in I/O (RS-232, RS-485).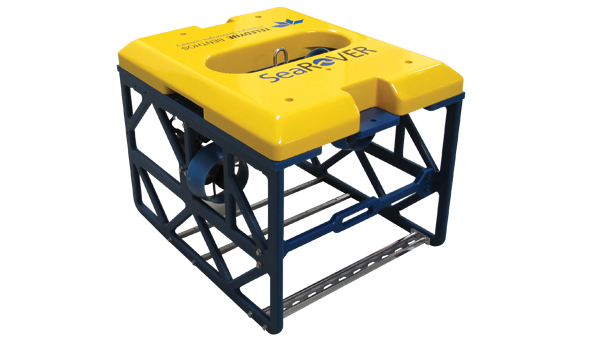 Teledyne Benthos SeaROVER
The SeaROVER® is an extremely powerful, compact open-frame inspection class vehicle, that was designed with a Payload Centric approach, meaning that the ROV is built around the sensor.
Features:
The payload centric design of the SeaROVER is a radical departure from other inspection class ROV designs. While other ROV systems have tool sleds or modifications that allow them to accept additional sensors, the SeaROVER has an open frame designed to specifically to carry those sensors in an optimized position for the best flight stability.
The payload centric SeaROVER is the ROV of choice for all high-resolution sonar inspection tasks.
The system includes the SeaROVER ROV, topside control unit, handbox controller, handbox cable, and rugged plastic shipping cases for the vehicle and the topside controller.
Sonar, 2x rotator, and tether all sold separately.
Teledyne Benthos Stingray
The Stingray is a portable inspection class ROV.
Features:
The Stingray is designed for easy deployment from any location.
A complete system includes the ROV, hand control box, handbox cable, topside control console, and shipping cases for the topside and ROV.
A variety of optional tools and accessories are available including articulating arm, BlueView sonar, optional display, and portable tether management system.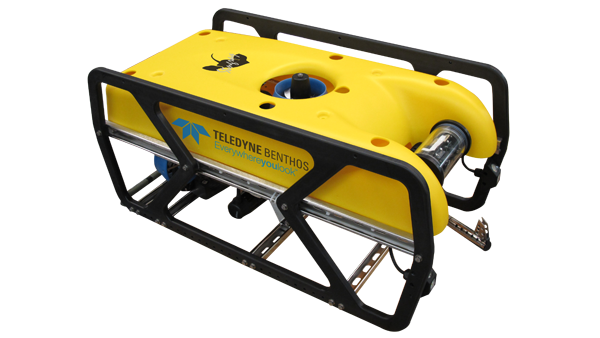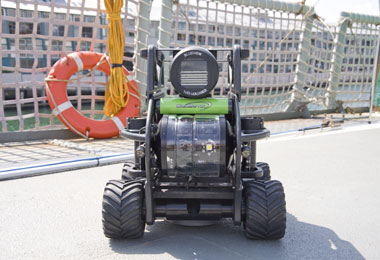 Teledyne Seabotix LBC
The SeaBotix LBC is a revolutionary hull inspection system providing unprecedented stability and control in extreme conditions.
Features:
Increased stability in demanding conditions
The LBC's unique vortex suction device enables it to adhere strongly to the surface being inspected in currents up to 5 knots. Even in such difficult conditions the LBC provides a stable sensor platform for high quality data acquisition. Don't be fooled by imitations!
Simplistic operation for all operators                                                                                                                   Attachment to a ship hull is incredibly simple and mastered by many in a few minutes. The dual vertical thruster configuration allows for the operator to roll the LBC and attach to the ship hull. The LBC then provides video/sensor feedback in a normal attitude further simplifying operation.
Ultimate in versatility
The LBC is comprised of the Crawler Skid Attachment (CSA) and the LBV300-5 system. Operators have a fully functional MiniROV system found in the LBV300-5 and the ability to add the CSA when required in only minutes. No other system offers the versatility and capability.
Unmatched sensor data acquisition
With it's ability to stay in one position indefinitely the LBC can acquire data unlike a free swimming ROV. Sonar, NDT and video are very precise as the LBC maintains its fixed or steady position.
Four wheel drive
Once the LBC is attached to a ship hull it uses a four wheel drive system rather than thrusters. This method increases the operating capability with incredibly amounts of torque. Four wheel drive ensures traction and straight line tracking during inspections.
Patented vortex suction device
Part of the LBC is the unique and highly patented Vortex suction device. Use of the Vortex creates an amazing amount of attraction (23 kgf) in a low profile device. The Vortex is more efficient and effective than thrusters, plus it works on any hard material unlike magnetic systems.