nke MPx
Water quality control, environmental and aquafarms monitoring.
MPx autonomous multiparameter probe enables to measure and record up to 7 physicochemical parameters:
Temperature
Pressure (depth)
Conductivity (salinity)
Turbidity
Dissolved Oxygen
Fluorescence (chlorophylle a, phycocianine)
pH
Characteristics:
Light and compact
Can be used in a smart buoy network
Over 1 year autonomy
Remote setup and fast wireless data transfer with a computer and a Radio Data Pencil (approx. 25m range)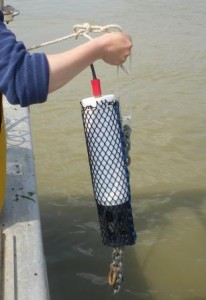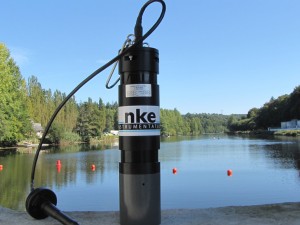 nke SAMBAT
SAMBAT is an Autonomous Multiparameter Probe with Brush and Teletransmission.
This equipment is used to measure and record the main physical water parameters (temperature, depth, conductivity for the calculation of salinity, turbidity, fluorescence, dissolved oxygen and pH) on a period of time up to several months.
SAMBAT uses a Brush to protect the Fluorescence, Turbidity and dissolved oxygen sensors from biofouling.
An operational probe :
Suitable for any type of support (very light buoy, ladder, stake, pontoon...).
Set up with the WinMemo II software thanks to a radio connection (Radio Data Pencil) with arange of around 25 meters.
Possibility of transfering measured data by Email, thanks to the integrated GSM modem.
nke SMATCH
SMATCH measures and records up to 7 parameters: temperature, pressure (depth), conductivity (salinity), turbidity, dissolved oxygen, fluorescence (chlorophyll a or phycocianine), and pH. Light and compact, SMATCH has been designed for long term use in network. 
Operational:
Deployment on a light buoy or on a stationary structure in shallow waters
Remote, quick, wireless set-up and data transfer with a computer and a Radio Data Pencil (about 25m range)
GPRS link for network use
Rugged and reliable:
Sensors protected against biofouling by localized chlorination
GPS location available with alarm function (swinging circle)