SBG Systems offers a complete line of high performance and miniature Attitude and Heading Reference Systems (AHRS), Inertial Navigation Systems (INS), 3D Compass and Inclinometers.
High Accuracy Inertial Sensors
0.05° – Ekinox takes MEMS to the next level.
R&D specialists usually compromise between high accuracy and price. The ITAR Free Ekinox Series has been designed to take robust and cost-effective MEMS to the Tactical Grade. Compromise is no longer required between high accuracy & cost.
Performance
Roll, Pitch and Heading (GPS):      Up to 0.05°
Position:                                                   2 cm (RTK)
Heave:                                                        5 cm (Real-time), 2.5 cm (Delayed)
Aiding equipment:                               RTK GPS, Odometer, DVL, USBL, etc.
Other feature:                                        Post-Processing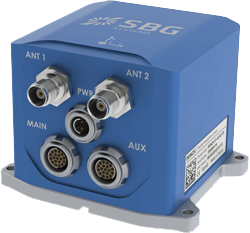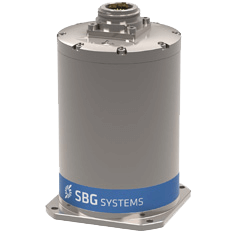 High Accuracy Subsea Sensors
Ekinox-U is an ITAR Free Underwater Inertial Navigation System. Designed for Subsea applications, Ekinox-U is operational up to 6,000 m.
It combines an Inertial Measurement Unit (IMU), runs an enhanced on-board Extended Kalman Filter (EKF), and can be connected to several aiding equipmentfor accurate and reliable navigation. 
High performance for a cost-effective solution:
0.05° Roll, Pitch, Heading (GPS)
5 cm Real-time Auto Adjusting Heave
2.5 cm Delayed Heave
Up to 6,000 m Depth Rate
200 Hz Update Rate
Real-time Data Fusion
8 GB Internal Data Logger
Up to 4 connected aiding equipment:
Navigation: RTK GPS/GNSS, LBL, USBL
Heading: Dual Antenna GPS/GNSS, Magnetometer
Velocity: DVL, Depth Sensor, EM Log
Miniature Inertial Sensors
Our miniature Inertial Systems provide an accurate 3d orientation and also, for certain products, a precise 3d position. Each Inertial System uses a set of 3D gyroscopes, accelerometers and magnetometers to track, in real time, every movement. This allows an accurate orientation measurement even in severe dynamic conditions.
All our sensors are calibrated over their full temperature range and compensated for misalignment, cross-axis and other effects such as Gyro-G effect, making them ideal for demanding applications.
Roll, Pitch:                          Up to 0.35°
Heading:                             Up to 0.5°
Position:                             2 m ( GPS)
Heave:                                10 cm
Aiding equipment:           GNSS, Odometer.
NEW Ellipse Series – More Accurate, More Robust, More Versatile
Ellipse Series is a brand new product family of miniature inertial sensors. Ellipse Series is more accurate, more robust, and more versatile than the original IG-500 Series - for the same budget. In addition, Ellipse Series comes with features inspired from high end inertial systems such as FIR and anti-rejection filtering, robust IP68 enclosure, high output rate, RTK corrections, automatic alignment, etc.
To Learn more about SBG Systems click here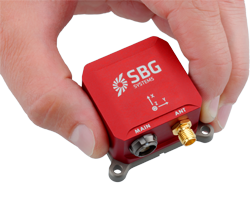 Roll, Pitch:                          Up to 0.2°
Heading:                             Up to 0.2°
Position:                              2 m (Model N), 2 cm (Model D)
Heave:                                 10 cm
Aiding equipment:            GNSS, Odometer.