dotOcean GraviProbe
The GraviProbe is a free fall impact instrument, analyzing the underwater sediment layers during intrusion. Under its own weight it accelerates and penetrates fluid and consolidated mud layers.
The geotechnical and density conditions of the soil layers are determining the probe's dynamical behavior. The data acquired from on-board accelerometers, inclinometers and pressure sensors is feeding a dynamical model which determines the geotechnical parameters of the intruded medium (depth, undrained shear and).
As a result the GraviProbe is able to very accurately distinguish the depth of the fluid mud and consolidated mud layers, even in gassy environments.
The high sensor data acquisition rates of up to 2kHz in combination with a low drag housing results in the highest quality profiles at drop rates over 7 m/s. Due to its light weight the probe can be operated manually from a small vessel, platform or quay and is limiting the operational costs.
The GraviProbe Rheology provides tip resistance and shear strength. The GraviProbe Soil is similar to the GraviProbe Rheology but has a conus extension to penetrate hard an stiff sediment layers.

Features:
Simultaneous measurement of depth, density, dynamic cone penetration resistance and dynamic undrained shear strength.
Fast sampling rate (2048Hz).
Ethernet communication, wifi ready.
Internal storage (microSD).
Long battery life (Li-Ion, 16h autonomy).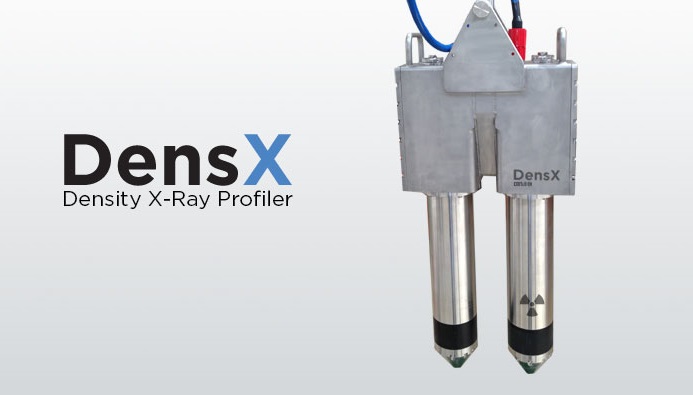 dotOcean DensX
The DensX is a high accurate in situ mud density measurement system. It measures mud densities between 1.0 T/m³ and 1.5 T/m³ with an accuracy of 0.25 %. The technology is based on X-ray and is a direct measurement method. With a sampling speed of 10 Hz the system supports fast profiling. The X-ray technology does not suffer from strong legislation restrictions like radioactive density measurement systems. The system weighs 70 kg and is able to deeply intrude in soft sediment layers.
Along with the DensX comes a user friendly software that controls a fully automated winch. The software visualizes the density profile, the winch speed, the winch torque and the tilt of the DensX. When several density profiles are taken, the software generates a mud grid and interpolated dredging volume.
Today the DensX is applied in ports and access channels to characterize mud layers, to measure density based nautical bottom criteria and to prepare and evaluate dredging works. The accurate density measurement capability allows to determine precisely the ton dry weight of dredging material.
The DensX completes dotOcean's product portfolio of underwater sediment characterization profilers and is complementary to rheological instruments as the GraviProbe.
Features
X-Ray based, direct measurement system.
High accuracy (0.25%).
Fast sampling (10Hz).
Standard ethernet communication.
Software controlled ethernet winch with variable speeds.
dotOcean ICone
dotOcean is currently developing an intelligent sounding pole (NL: "intelligente peilstok"). With this manual mud or sediment profiler it is possible to analyze underwater soil layers in small waterways and rivers by manually pushing the instrument in the soil. This results in a full profile of the soft underwater layer from fluid mud to the hard bottom. The instrument can measure cone penetration resistance in fluid mud and consolidated mud. 
The ICone is equipped with a Bluetooth connection for real time visualization of measured data on a ruggedized tablet (included). Connection with standard GPS devices is supported or optionally an embedded highly accurate GPS can be installed. 
With the collected data it is possible to constitute an accurate planning for dredging and maintenance of small waterways. 
Features
Accurate resistance over depth profile.
Strong and reliable system.
Extendable with 1m pieces.
High resolution due to fast sampling rate.
GPS module included, optional precision GPS.
Connection with other standard GPS instruments.