3D Multibeam Scanning Sonar
Teledyne Blueview's 3D Multibeam Scanning Sonar create high resolution, laser-like, imagery of underwater areas, structures and objects of interest, even in low to zero visibility conditions.  The 3D system is simple to deploy, easy to operate, provides highly detailed 3D point clouds with minimal training from a tripod, an ROV, surface vessel or customized deployment solution. The BV5000 collects 3D point clouds without positioning, heading, pitch or roll information from a stationary platform and can collect motion compensated 3D point clouds using the MotionScan kit. When the BV5000 is combined with QuickStitch software, a streamlined software package for viewing, cleaning, aligning, measuring and creating profiles, the complete 3D solution delivers turn-key 3D to customers.
FEATURES:
.XYZi files are compatible with 3rd party survey software packages
Manually adjustable scan speed from 1-10 degrees a second
2 model options (1.35 & 2.25 MHz)
Standard Ethernet/RS485 interface
Easy Windows based software
Scan speeds from .5 to 10 degrees a second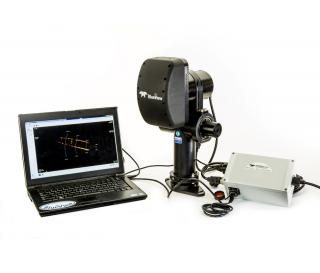 MotionScan
Teledyne Blueview's MotionScan system allows the BV5000 3D scanning sonar user to collect motion corrected 3D point clouds from a moving platform. The MotionScan system is comprised of: an RTK capable dual antenna GPS with precision heading output, a MiniSense3 heave, pitch and roll sensor, a topside control console and Teledyne PDS data acquisition software. Some advanced users may already have adequate positioning and heading sensors required for correction calculations. These users may desire a custom integration MotionScan which provides only the Minisense3 motion sensor and the Teledyne PDS acquisition software.
FEATURES:
Real time 3D point cloud generation
Motion compensated 3D scans
Operate in standard profiling mode and adjusting tilt angles on the fly